Customized shim assortments from MARTIN simplify alignment work
Wherever precise alignment, levelling and compensation of shafts, bearings and machines is required, the shims of the M-Tech® product line from MARTIN prove to be real problem solvers. Assembled in robust transport cases with standard assortments or as a world first in the form of non-standard sets, they offer a great deal of scope for process and quality optimization, especially in the commissioning, assembly and maintenance of drive systems. Up to 780 shims with thicknesses from 0.025 to 2.0 mm are available.
Dietzenbach, October 2023 – What once began with classic, vacuum skin packaged motor shims has now developed into a comprehensive portfolio of precision shims, which are provided to customers in M-Tech® branded or individually equipped special cases. This refers to the M-Tech® range of shims from MARTIN, which play a central role in aligning drive shafts or compensating for height differences between motors and drive units. For many manufacturers and users of drive systems, they have become an indispensable element of quality assurance during initial setup as well as maintenance, repair and servicing work. They make a valuable contribution to process optimization, especially when shafts or entire drive trains need to be aligned to the hundredth by means of high-precision laser sensors. "With our flexibly applicable M-Tech® shims, alignment becomes child's play. Drive shafts can be optimally aligned, which has a positive effect on the roller bearings of the units and significantly reduces downtime – that is the primary goal of our shims," says Managing Director Christoph Martin.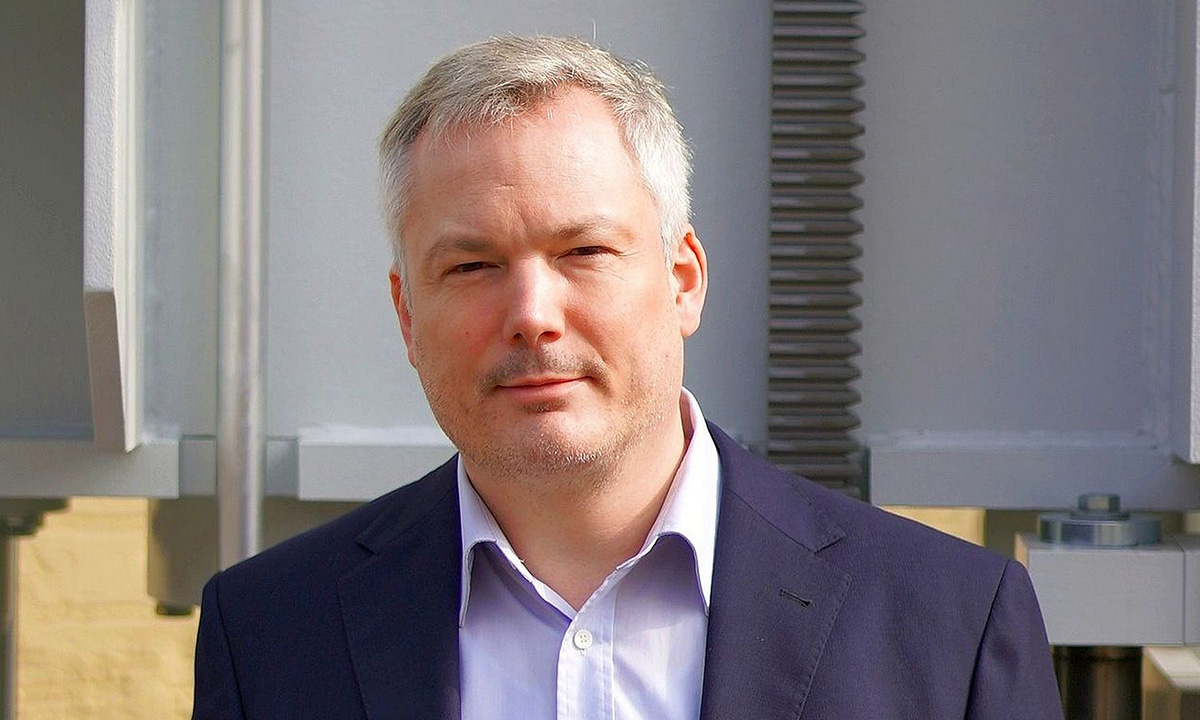 Christoph Martin: "With our M-Tech® ranges, alignment is child's play. Drive shafts can thus be optimally aligned, which has a positive effect on the bearings of the aggregates and significantly reduces downtimes."
Standard or customized
The current range of M-Tech® shim assortments from MARTIN includes five transport cases with standard assortments, two cases labelled "light" and one empty case with free slots for individual selection. All standard assortments are assembled ready for use with steel shims of the type M-Tech®S (solid, stainless) in ten graded material thicknesses from 0.025 to 2.00 mm. The refill packages offer additionally 3,00 mm shims. Depending on the model, the cases contain between 380 and 780 shims with edge lengths of 50, 75, 100 or 125 mm and can weigh up to 26 kg. The refill packages comprise additionally the 200 by 200 mm shim contour. Hence all standard ranges cover a wide range of typical alignment and levelling work.
Lighter and smaller are the "light" cases, which offer a smaller number of special steel or polymer shims. Because of their special equipment, MARTIN calls them Non-Standard ranges. They consist of 165 shims each with edge lengths of 50, 75 and 100 mm. In this version, the cases weigh a maximum of 8.9 kg. If taken as a Non-Standard kit in a polymer version the weight is only 2,6 kg. A Non-Standard range is, for example, a combination selection of edge-welded, multilayer M-Tech®V and solid M-Tech®S shims made of stainless steel. The individual layers of multilayer shims are stamped to a very high quality and lie press on top of each other, giving them high compressive stiffness. In addition, MARTIN shims are designed to avoid undesirable spring pack effects. A non-standard assortment case can also consist of M-Tech®L (multi-layer laminated, manually peelable) and M-Tech®S (solid) plastic shims weighing only a few grams. In this case, the user can work with lighter shims and benefit from the special advantages of polymer shims: Corrosion resistance, electrical insulation or vibration damping.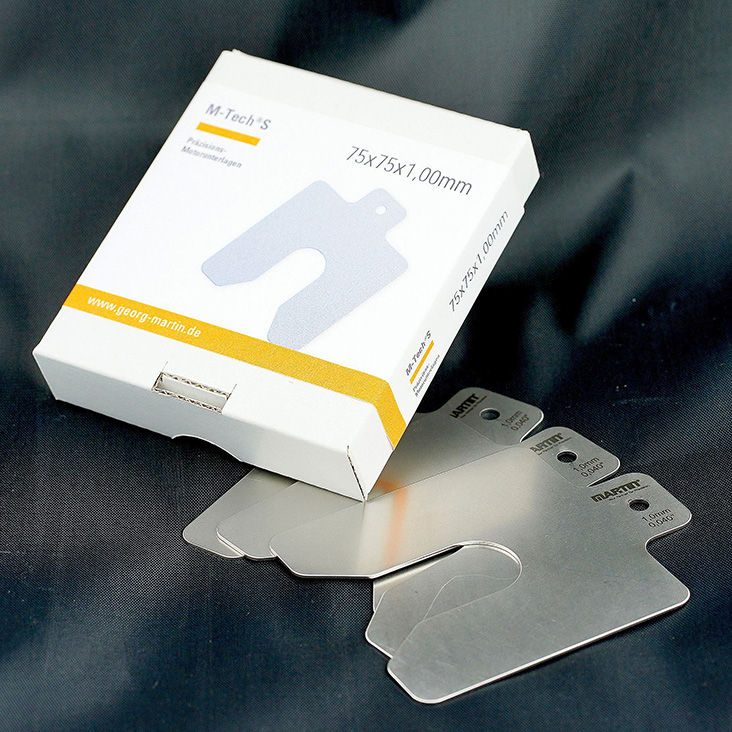 Part of MARTIN's M-Tech® case program are single-grade refill packs for all registration elements of the M-Tech® and Laminum® HP families.
Shims with a big effect
Above all, the use of the multi-layer non-standard M-Tech® shims supports the implementation of lean manufacturing concepts. "Instead of many individual shims, a multi-layer non-standard shim in combination with, for example, one or two solid standard shims is then sufficient to align a position. The fitter therefore does not have to keep an oversized case with standard assortment and does not have to struggle with its heavy weight," says Christoph Martin.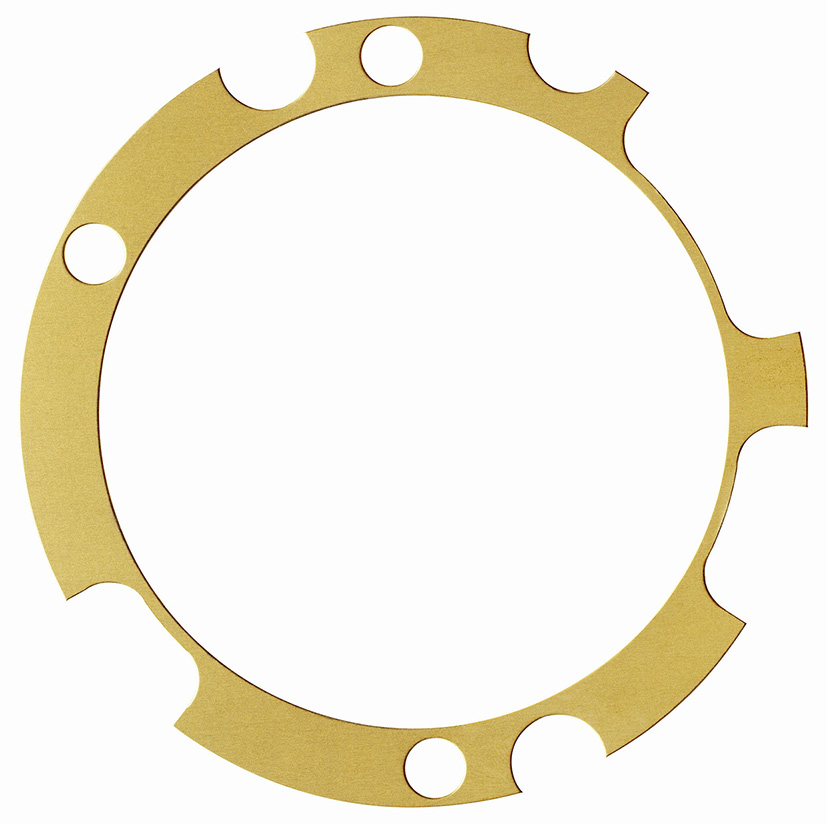 Ring-shaped shim made of brass: On request, MARTIN also realizes shims as customized special solutions in small batches.
On special request, MARTIN also realizes the shim assortment cases in the customer's branding. For several years now, the company has been supplying a manufacturer of laser alignment systems, for example, with customized complete solutions consisting of individual shim sets in transport cases with a customer-specific look.
In order to also give users of its M-Tech® range cases the opportunity to quickly replace missing or used shims, MARTIN keeps a large portfolio of single-grade refill packs on hand. They are available for both standard and non-standard assortments. Exclusively available as refill packs are peelable shims of the types Laminum®HP3 (wrought aluminium alloy) and HP1 (stainless steel). In addition to the above, MARTIN also realizes special solutions in small batch sizes as drawing parts.